Dubuque Party Bus Popular Events
Named one of the best cities in the country for jobs, families, and young professionals, Dubuque just keeps getting better! With all there is to do in Dubuque, from family gatherings to corporate events, you're bound to find a need for a party bus. We provide the safest, most reliable, and most fun transportation in Dubuque!
Dubuque Casinos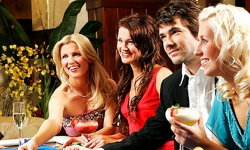 Our casinos are one reason why Dubuque has become such a popular tourist destination in the past few years! We love being part of the action by providing safe, reliable transportation to and from Diamond Jo and Mystique casinos. On a Dubuque Party Bus, you'll start the fun before you even get to the card table! Our pumping sound systems and dancing poles will help you start a before- and after-party for your casino outing. Whether you're celebrating a big event or just getting a bunch of friends together for a night of gambling, Dubuque Party Bus has got your back.
---
Dubuque Corporate Events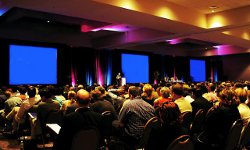 Make a great impression on your clients, business partners, or employees by treating everyone to a ride on a Dubuque Party Bus! We help companies in Dubuque take advantage of everything the city has to offer. For holiday parties, airport transportation, and events at the Grand River Center, Dubuque Party Bus is the fun alternative for companies on the go.
---
Dubuque Weddings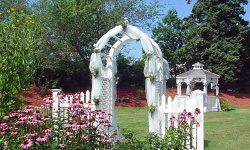 You may be ready for your walk down the aisle, but do you have wheels to get to and from the chapel? Dubuque Party Bus is honored to have provided transportation for local love birds since our inception. Whether we're taking the bridal party to the ceremony or getting all your guests to the reception, we'll make sure that you're having a fantastic time! Because we pride ourselves in being on time, professional, and fun, you're in good hands on the biggest day of your life!
---
Dubuque Out-of-Town Trips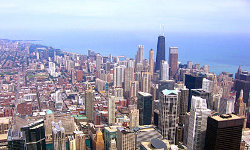 When you're headed out of town for a mission trip, sports event, or just a quick road trip to Chicago, the Twin Cities, or another destination, you can count on Dubuque Party Bus to get you there in style. It's likely that you'll forget that you're on the road, with our state-of-the-art entertainment systems, comfortable seating, and light show! Non-profits, volunteer groups, and church groups should call us to ask for special rates. We love to help groups that are giving back to the Dubuque community!
---
Dubuque Bar and Pub Crawls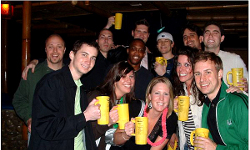 With five colleges in the Dubuque area, and with the title of one of the best communities for young people, it's no wonder that bar and pub crawls are more popular than ever in Dubuque! Hop around our town's greatest bars, from the awesome beer selection at Busted Lift, to the chill vibe at The Lounge, to the rock bottom priced drinks at Shannon's - but don't get stuck being the designated driver. Let Dubuque Party Bus take care of the transportation, while you and your friends focus on finding the best brew in the city!
---